16 Reasons Why Efforts To Clean Up Yamuna Are Going Down The Drain
Category : Water Pollution | Location : Delhi | Posted on 2021-08-19 00:33:23
---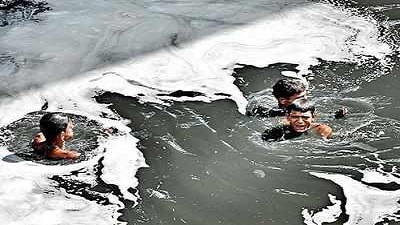 New Delhi: A report by Delhi Pollution Control Committee (DPCC) on the assessment of water quality of drains says 16 out of the 30 drains that discharge into the Yamuna are not meeting the prescribed parameters of biochemical oxygen demand (BOD). Some drains are also flouting prescribed standards of chemical oxygen demand (COD) and total suspended solids (TSS).
Apart from analysing the Yamuna water quality at eight sites, DPCC took samples from the drains to identify the polluting ones. The latest water quality status report, which is based on the samples collected in June, stated the Sweeper Colony drain was the most polluted. It contributed 120mg/l BOD, 544mg/lCOD and 310mg/lTSS. The prescribed standards for drains are 30mg/l for BOD, 250mg/l for COD and 100mg/l for TSS.
Two more drains, which did not meet the prescribed standards of COD, were Molarband (384mg/l) and Metcalf House (256 mg/l) drains. Nine drains failed to meet TSS parameters.
A DPCC official said, "As each drain gets trapped, the improvement in water quality is accessed through these parameters. Many minor drains get merged with major drains and hence, the assessment of water quality helps in identification of minor drains that discharge a heavy load of pollutants ending up in the river."
The analysis will also help in identifying from where sewage is entering into the system or industrial areas that discharge untreated effluents into the river, he added. The monthly report is shared with various authorities to help them improve the water quality.
According to officials, there are 18 major drains that fall into the Yamuna in the stretch between Wazirabad and Okhla in Delhi. "Of these, trap has been completed in 13 drains and two major drains — Najafgarh and Shahdara — are included in Interceptor Sewer Project where substantial flow of sub-drains under their command areas will be trapped and treated. Further, in situ treatment in these drains are also being proposed," said a report submitted by the environment department to the Union jal shakti ministry.
The report stated that for the remaining three drains, an action plan has been prepared, which requires construction of sewage treatment plants (STPs) at the mouth of two drains, Mori Gate and Barapullah.
Source: https://timesofindia.indiatimes.com/city/delhi/16-reasons-why-efforts-to-clean-up-yamuna-are-going-down-the-drain/articleshowprint/85442204.cms