Delhi govt gives nod to action plan to phase out single-use plastic
Category : Plastic pollution | Location : Delhi | Posted on 2021-08-19 00:31:21
---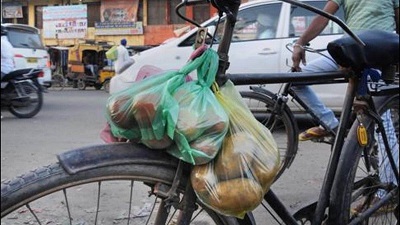 New Delhi: The Delhi government on Wednesday approved a comprehensive action plan detailing steps to be taken by various agencies by December 2022 to phase out single-use plastic from the Capital.
Senior Delhi Pollution Control Committee (DPCC) officials said that the "Comprehensive Action Plan for Elimination of Identified Single-Use Plastic" includes strict deadlines for the stakeholders to adhere to, adding that the progress will be closely monitored by the pollution control board.
"The draft action plan was prepared last week, and we were awaiting its approval. We have been having detailed meetings with all stakeholders on the effective implementation of the ban," said an environment department official.
The Union environment ministry notified the Plastic Waste Management Amendment Rules (2021) that prohibits the manufacture, import, stocking, distribution, sale and use of identified single-use plastic items on August 12. The rules said the permitted thickness of plastic bags, currently 50 microns, will be increased to 75 microns from September 30 this year and to 120 microns from December 31, 2022.
It also banned several single-use plastic items like earbuds with plastic sticks; plastic sticks for balloons; plastic flags; candy and ice-cream sticks; polystyrene (thermocol) for decoration; glasses; cutlery; wrapping or packing films around sweet boxes, invitation cards, and cigarette packets; and plastic or PVC banners of less than 100-micron thickness. The ban on these will come into force from July 1 next year.
In May this year, Delhi constituted a special task force, under the chief secretary, to take measures to eliminate single-use plastics. Later in June and August, the principal secretary (environment) convened consultation meetings with stakeholders to identify and adopt alternatives to single-use plastic.
Earlier in August,an information, education and communication (IEC) plan for different stakeholders, including manufacturers, resident welfare associations, market associations, was also prepared by DPCC to discourage the use of items that use single-use plastic.
The comprehensive action plan approved on Wednesday details various steps to be taken to phase out single-use plastic, the time frames -- divided short, medium, long term or continuous action -- for each action, deadlines and the agencies responsible for the task.
For instance, under the "management of littered single-use plastic items" in the action plan, one of the tasks --"identification of ingress points of littered single-use plastic items in surface water bodies and drains and strategy for prevention" -- has to be completed by October 31, 2021, by the urban local bodies, Delhi Jal Board and the Irrigation and Flood Control Departments.
Other deadlines include the assessment of district-wise plastic waste generation in Delhi by March 31, 2022; identification and closure of units manufacturing single-use plastic products by June 30, 2022; development of a database of plastic recyclers by December 31, 2021; and a 'continuous' task of implementation of a plan to manage location-wise legacy waste.
An assessment by the Centre for Science and Environment (CSE) this year showed that 66% of the plastic waste generated in the country is coming from seven states alone. It further said Delhi, Maharashtra, Tamil Nadu, Karnataka, and West Bengal, "followed a highly consumerist lifestyle" and generated 48% of the total plastic waste.
Atin Biswas, programme director (solid waste management) at CSE, said, "The test will be how the states implement this ban. These items are so widely in use that we will need a comprehensive and effective plan to phase out single-use plastic. Enforcement will have to be backed by awareness."
Source: https://www.hindustantimes.com/cities/others/delhi-govt-gives-nod-to-action-plan-to-phase-out-single-use-plastic-101629310240302.html