National Water Awards 2022 4th National Water Awards, 17th June, 2023 Vigyan Bhawan, New Delhi
Category : Water Conservation | Location : National | Posted on 2023-05-23 23:49:11
---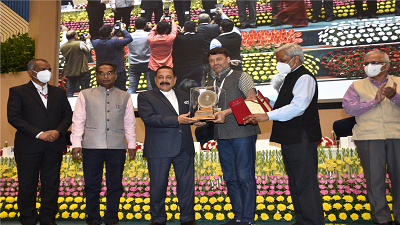 New Delhi, Jalal Ud Din Baba (Earth Journalist/Science Filmmaker) from Jammu & Kashmir, who
heads the Center For Environment & Sustainable Development (CESD) which publishes "Water -
The Living Side Of Life" E-Magazine will receive the honours National Water Award 2022 at
Vigyan Bhawan, New Delhi.
The Department of Water Resources, River Development and Ganga Rejuvenation, Ministry of
Jal Shakti will organise the Award Distribution Ceremony for the 4th National Water Awards on
17th June 2023 at Vigyan Bhawan, New Delhi.
His Excellency Honourable Vice President of India Jagdeep Dhankhar will be the Chief Guest and
will felicitate the Awardees. Center For Environment & Sustainable Development (CESD) will
receive the 2nd Best Earth Journalism (Print & Electronic Media Award 2022)
41 winners, including joint winners, have been selected for the 4th National Water Awards, 2022,
covering 11 categories including 'Best State', 'Best District', 'Best Village Panchayat', 'Best Urban
Local Body', 'Best Media', 'Best Institution for campus usage', 'Best School', 'Best water user
association', 'Best Industry', 'Best Industry for CSR activities', and 'Best NGO'.
Jalal Ud Din Baba (Earth Journalist/Science Filmmaker) from Jammu & Kashmir, who heads the
Center For Environment & Sustainable Development (CESD) which publishes "Water -The Living
Side Of Life" E-Magazine will receive the honours National Water Award 2022 at Vigyan Bhawan,
New Delhi.
This is the 5th time Jalal Ud Din Baba will be conferred with National Award for Science
Communication, Earth Journalism, Nature Communication, Academics, Master Classes,
Workshops and Green Filmmaking spreading across India. Besides Jalal has won numerous
international awards in Europe, the USA, France, South Korea, Spain and China for his thoughtprovoking
documentary films and science communication through digital media over the last 10
years.
In 2022 Jalal won the (C. V. Raman, Nobel Laurate Physicist) National Award from the Ministry of
Science And Technology, GOI for Communication Science and Technology to masses through Print
and Electronic media for 2021 on National Science Day Celebration 28th February 2022, Vigyan
Bhawan, New Delhi. In 2018 Jalal won the National Geographic Channel Award #Earth #Lights
#Camera for the NGC telecasted his exquisite storytelling and filmmaking of his film Saving The
Saviour on 19th September 2020 on its all-digital platforms. Jalal is the only winner of Royal Bank
Of Scotland (Earth Hero 2019) from Jammu & Kashmir to date for his excellent green filmmaking
and science communications skills.
It is against this backdrop that the National Water Awards (NWA) have been instituted to
recognize and encourage exemplary work and efforts made by States, Districts, individuals,
organizations, etc across the country in attaining the vision of a 'Jal Samriddh Bharat'. The first
edition of the National Water Awards was introduced by the Department of Water Resources,
River Development and Ganga Rejuvenation in 2018 and 82 winners across 14 categories were
awarded on 25 February 2019 in New Delhi.
The award winners in different categories will be given a citation, trophy and cash prize. The cash
prizes for the 1st, 2nd, and 3rd rank winners are Rs.2 lakhs, Rs.1.5 lakhs, and Rs.1 lakh,
respectively. Along with Award Winners and dignitaries/officers, about 1,500 guests from
various Ministries/ Departments/ Organizations/ State Governments will participate in the
ceremony. Committees headed by senior officers of the Ministry have been constituted to oversee
various arrangements for the award ceremony.
Thereafter, the 2nd National Water Awards were announced in 2019 and 98 winners under 16
categories were felicitated by the Vice President of India on 11-12 November 2020. The 3rd
National Water Awards distribution ceremony was organized on 29th March 2022 and 57
winners under 11 categories were felicitated with awards by the President of India.