Dear Friends,
We are happy to bring to you the daily issue of our e-newsletter "Prayavaran Times".
This is an electronic documentation of news and features on various environment and wildlife issues, appearing in English news dailies in India.
It is an attempt to compile and reiterate the important conservation concerns of our society.
It caters to wide network of CMSVATAVARAN which includes environmentalists, wildlife enthusiasts and experts, conservationists, activists, researchers, media professionals, filmmakers and NGOs/ scientific organisations .
Please feel free to share this further in your respective networks and also any further suggestions to improve this service.
Sincerely
Preeti Kashyap
preeti@cmsindia.org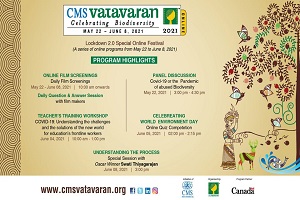 Could 'engineered' coral save the planet's reefs from destruction?
The Guardian

This weekend, conservationists will put the final touches to a giant artificial reef they are assembling at London zoo. Samples of the planet's most spectacular corals – vivid green branching coral, yellow scroll, blue ridge and many more species – will be added to the giant tank along with fish that thrive in their presence: blue tang, clownfish a more....