Dear Friends,
We are happy to bring to you the daily issue of our e-newsletter "Prayavaran Times".
This is an electronic documentation of news and features on various environment and wildlife issues, appearing in English news dailies in India.
It is an attempt to compile and reiterate the important conservation concerns of our society.
It caters to wide network of CMSVATAVARAN which includes environmentalists, wildlife enthusiasts and experts, conservationists, activists, researchers, media professionals, filmmakers and NGOs/ scientific organisations .
Please feel free to share this further in your respective networks and also any further suggestions to improve this service.
Sincerely
Preeti Kashyap
preeti@cmsindia.org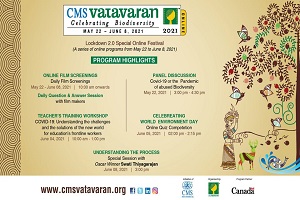 Uttarkhand to plant 1.37 crore plants this monsoon, Van Mahotsav 2021 starts
Correspondent : TNN
Dehradun: The forest department of Uttarakhand launched Van Mahotsav 2021 on Thursday with an ambitious target of planting 1.63 crore saplings in the state this monsoon. State forest minister Harak Singh Rawat, on Thursday, kicked off the campaign by planting a sapling at Arcadia Grant, Dehradun. He also distributed around 350 saplings to the people present at the event.

Besides Van Mahotsav, the Gaurav Devi plantation drive was also launched across school campuses on Thursday.

According to forest officials, the state government plans to cover almost 14,000 hectares of area under various afforestation programmes.

Rajiv Bhartari, head of forest force of Uttarakhand, told TOI that the forest department has received almost Rs 62 crore for carrying out this plantation drive under different state and Centre schemes.

"We are planting fruits and wild trees in the Thano forest and nearby areas. The drive will make the habitat of wild animals richer. This will also reduce human-wildlife conflict in the state," said Dr Aanchal Sharma and Anku Sharma, founders of The Earth and Climate Initiative.
SOURCE : https://timesofindia.indiatimes.com/city/dehradun/uttarkhand-to-plant-1-37-crore-plants-this-monsoon-van-mahotsav-2021-starts/articleshowprint/84046814.cms
Back to pevious page