Dear Friends,
We are happy to bring to you the daily issue of our e-newsletter "Prayavaran Times".
This is an electronic documentation of news and features on various environment and wildlife issues, appearing in English news dailies in India.
It is an attempt to compile and reiterate the important conservation concerns of our society.
It caters to wide network of CMSVATAVARAN which includes environmentalists, wildlife enthusiasts and experts, conservationists, activists, researchers, media professionals, filmmakers and NGOs/ scientific organisations .
Please feel free to share this further in your respective networks and also any further suggestions to improve this service.
Sincerely
Preeti Kashyap
preeti@cmsindia.org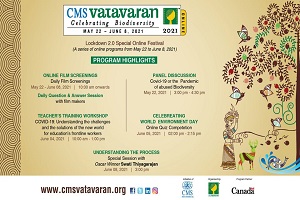 Poacher in Odisha held with 10 kg boar meat
Correspondent :
BARIPADA: Wildlife sleuths on Sunday arrested a 23-year-old youth for poaching in Dukura range of Similipal Division (South) in Mayurbhanj district. The accused Hari Naik, a native of Kasikundal under Udala police limits, was held with 10 kg wild boar meat during forest patrolling in the area.

He was intercepted near Jambani-Bhalubasa road at around 10.30 pm while he was returning home after hunting in the national park. Besides the meat, an axe, a bicycle, torch, bill hook, two plastic bags, a big tarpaulin and mobile phone were seized from his possession.

Range Officer Ananta Jena said the accused was booked under Wildlife Protection Act, 1972.
SOURCE : https://www.newindianexpress.com/states/odisha/2021/may/18/poacher-in-odisha-held-with-10-kg-boar-meat-2304055.html
Back to pevious page